DGI DECORATIVE GLULAM TIMBER BENCHTOPS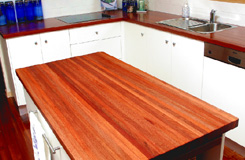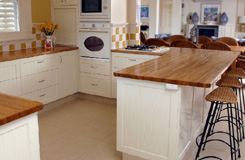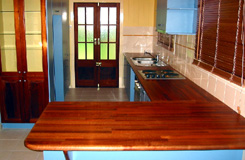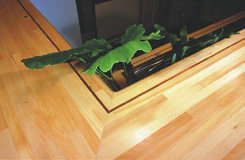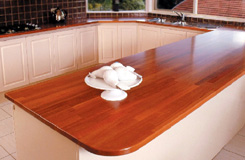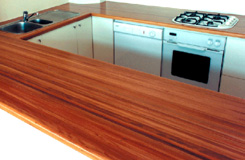 Since time immemorial, man has attempted to decorate and brighten his environment. The chosen decorative material has generally been wood.
Sleek, smooth, stylish timber has always given endless scope for individual expressions of design. There is warmth and richness to wood that is unique and will always compliment and enhance any interior.
DGI Glulam is an ideal choice for either new projects or renovations as it is easy to install on existing, remodelled or new cabinetry. Being solid timber, it is durable, resilient and practical. It can be repaired, altered or reinvigorated at any time during its life. These are qualities that make DGI Glulam a preferred choice in kitchen renovations and bathroom renovations.
Applications extend to bathrooms, laundries and furniture items, making our Glulam a popular choice of architects and designers.
Available in over 25 different species to feature or enhance other materials.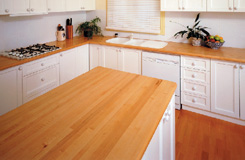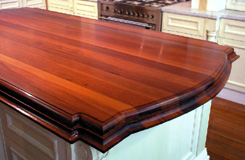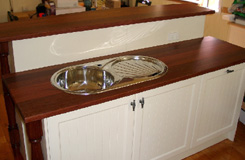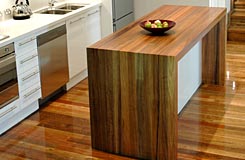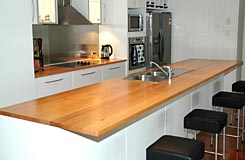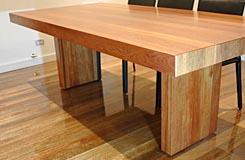 Products:
Traditional Range: 38-40mm thickness (with butt joints) available in long lengths.
Classic Range: 40mm thickness with wider laminates in most species.

Feature Grade Range: 33/40mm thickness showing the timber natural features.
Slimline Range: 33mm thickness with wider laminates in large variety of species.
Recycled Timber Range: 40mm thickness in two distinct colour ranges.
Panel Range: Solid timber panel boards available to order in 20mm thickness for furniture and shelving.
Please refer to Timber Range & Timber Properties for more details.
In addition to stock species, special made to order benchtops can be processed through one of our manufacturing plants.
Recommended finishes are:
dgi Polyurethane – 2 pack finish – hard wearing with excellent chemical and abrasion resistance.
dgi Country Oil – a natural look that is economical and easy to apply and maintain.
The practicality and natural beauty of solid timber has ensured the extensive use of DGI Glulam in:
Shopping centres for crash rails, bag rails, seating, counters, stairs, product displays.
Hotels for bars, tables, reception counters, food counters.
Restaurants/Bistros for tables, stools, bars, shelving, counters, waiters stations.
Offices / Showrooms for display shelving, board room tables, workstations, laboratory tables
Public Areas for seatings, sculptures, stair